10 Positives of the shifting real estate market
Posted by Alisa Wells on Saturday, October 8, 2022 at 10:13 AM
By Alisa Wells / October 8, 2022
Comment
If you would prefer to listen to this post in more detail, it is also available in podcast form! You can find it by searching Greetings From Austin wherever you listen to podcasts. Or, visit the link below to listen on Spotify.
Today we are talking about the changing market and how to decide if now is your time to buy and/or sell. So let's get started with 10 positives in our shifting market.
#1 - Houses are spending more time on the market. (More time to view and make a decision.)
#2 - Buyers have more properties to choose from. 2.9 months of inventory in August of 2022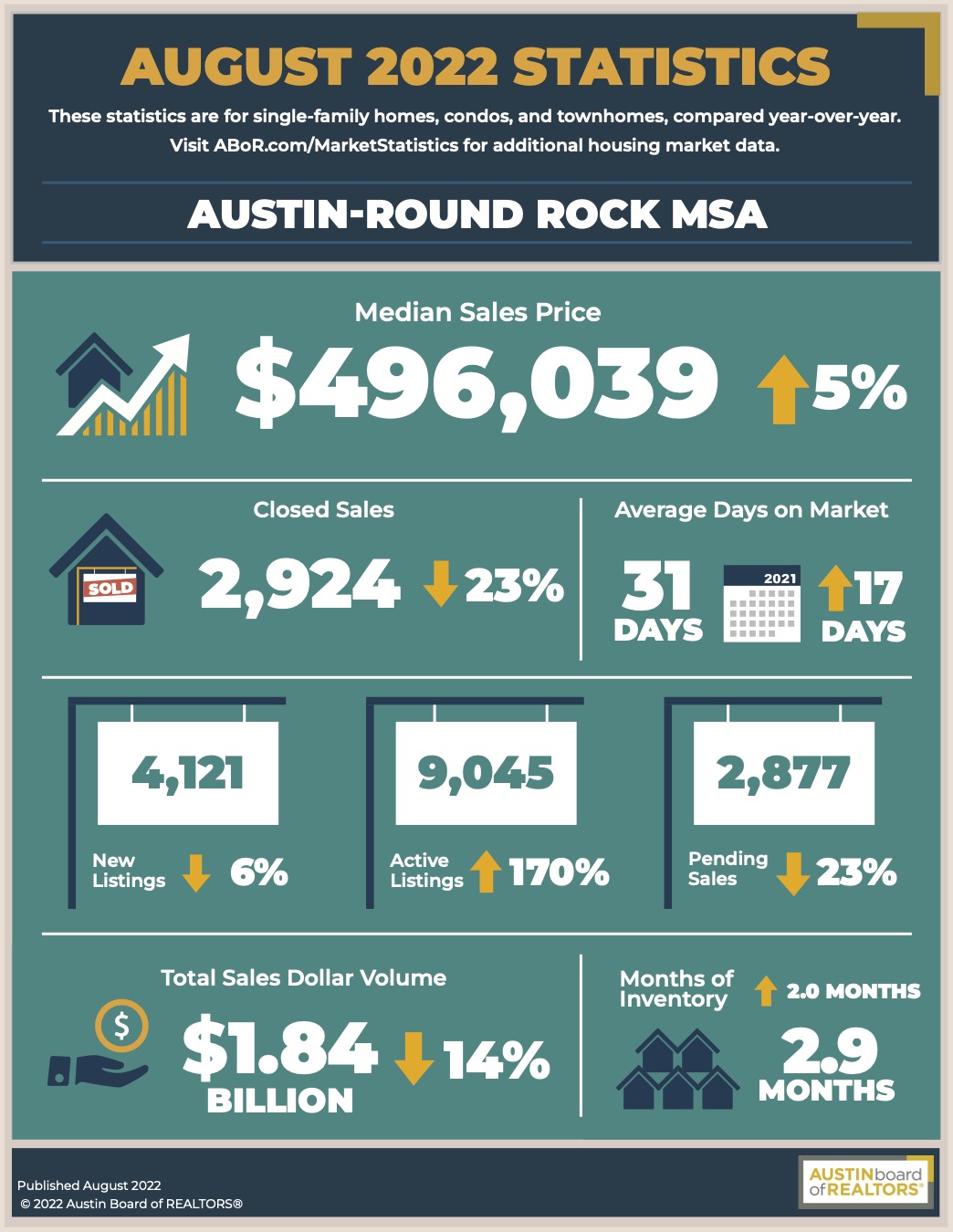 #3 - Easier for ALL buyers to compete
#4 - Appraisal addendums are becoming less common. This means more protection for buyers.
#5 - Now there's more time to get an inspection and sellers are more likely to negotiate repair items or pay for title costs. Saving buyers a lot of money.
#6 - Sellers don't have to accommodate 50+ showings in a weekend. It was so difficult to list your property with kids, pets, or work from home.
#7 - Waiving fewer contingencies. (Better for both parties!)
#8 - Easier for sellers if they need to buy and sell simultaneously. Contingency offers are BACK! This won't work for every property but we are seeing it more than we did in the past few years.
#9 - Rapid appreciation has led to tax appraisal hikes which cause affordability issues. Homeowners can't afford the tax, and landlords hiking rent or kicking tenants out.
#10 - No more standing in line to show a house and rush through in 10-15 minutes!
Here are our thoughts:
Interest rates are still relatively low and are likely to continue to go up(if they go back down you can always refi!)
If you have job security, a savings account, and plan to stay for a while, your investment can weather the future market whatever it looks like. You'll still need a place to live!
It has become popular for buyers to buy down the interest rates and even sometimes at the seller's expense.
We are now in a more balanced market and interest rates are still great if you look at the history of rates. Typically the market picks up in January/February for the spring season and we don't know what the interest rates will be at that time making now a great time to make the move.
Cheers! - Alisa and Jenny