Building a House in Westlake
Posted by Jenny Walker on Thursday, May 14, 2020 at 12:29 PM
By Jenny Walker / May 14, 2020
Comment
I LOVE construction and building homes. My passion and love of design started when I was a kid. I came from a family of builders. My dad and stepdad were both homebuilders and my grandfather owned lumberyards. That is not what drove me though. It was the feeling I get when I look at a beautiful home and I get to be in a visually pleasing envinroment. A feeling of happiness and peace. I grew up in rentals and I always thought they were so ugly and I never really felt "at home". As I got older, I would start to paint and remodel my own spaces. I remodeled my own bathroom in college! I mean who cares about that stuff then? Well, I did. I loved how a beautiful space would make me feel. I started remodeling my own investment homes in 2005. My remodels got so involved that I was gutting the entire house and putting it back together. That led me to new construction. I am in heaven with building new. I can really put my creation to work and not have to make sacrifices like I did in remodeling. Down below are pictures and information from a house I built in Westlake in 2019.
Here is the house I built in Westlake last year. It was supposed to be our house but plans changed and well, then it became someone else's house. All good, I am super happy with the house we are in. There are all sorts of challenges in building a home but I love it. All of it. The biggest challenge I came up against on this build was the low flow fire hydrant. I had to build a so-called "fire-rated" house. The objective was to build a house that would give the people in it one hour to get out in case of a fire. I will probably write a different blog just on that because I sure would love to help people that come upon the same challenge and perhaps help prevent some frustration. IT WAS A LOT. Ok, onward to the build!
We found this house in a great neighborhood in Westlake in Austin, Texas. My goal was to remodel it but then I came to the realization that I couldn't do what I REALLY wanted to do so I just tore it down! I worked with my architect and together we came up with a beautifully designed house.
This is one of the few pictures I have of myself at my construction site. I'm laughing because I don't have fear of much, I mean, I run all-male crews to build my houses, lol! My one fear is heights. I was coming off the roof here and my husband was making fun of me. I mean, I was barely off the ground and still being so cautious.... haha!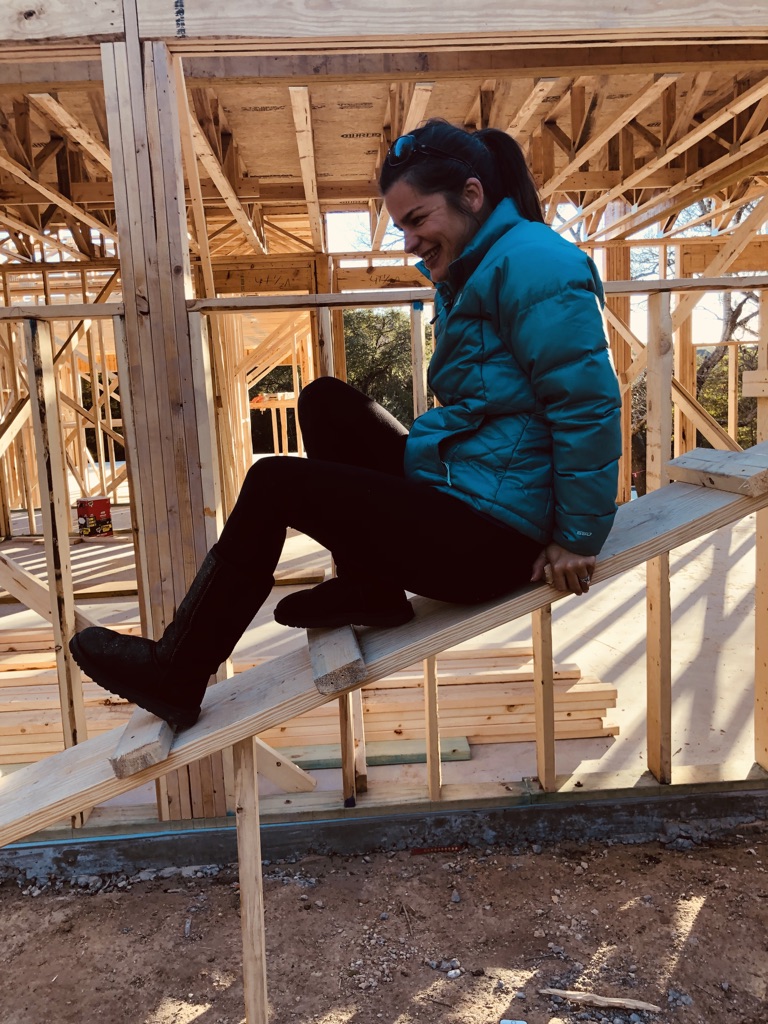 Before Demo, we went and had a little fun in the house. I mean, when else can you let your kids spray paint graffiti on the walls? We did some real silly videos too. I won't show those here:).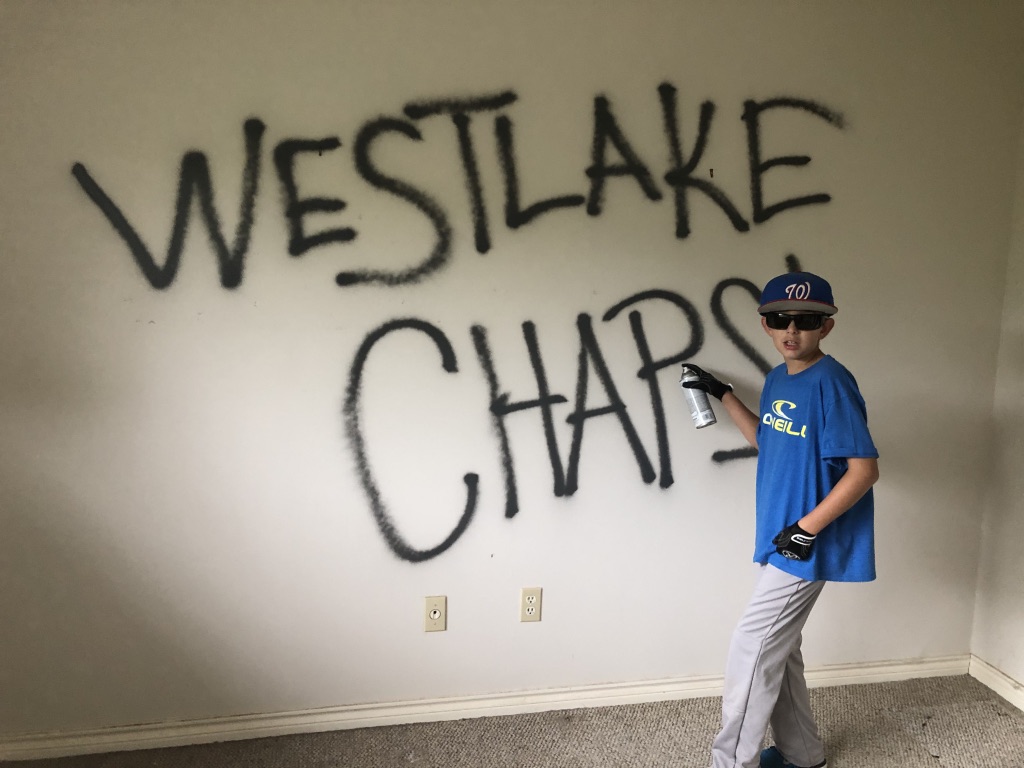 Demo Days.....I love watching the big equipment just tear it apart. It only took 3 days. My daughter would call this house the Dr. Suess house. It really did have funny shapes and pitches. Afterall, the stucco was pink and the fascia is blue!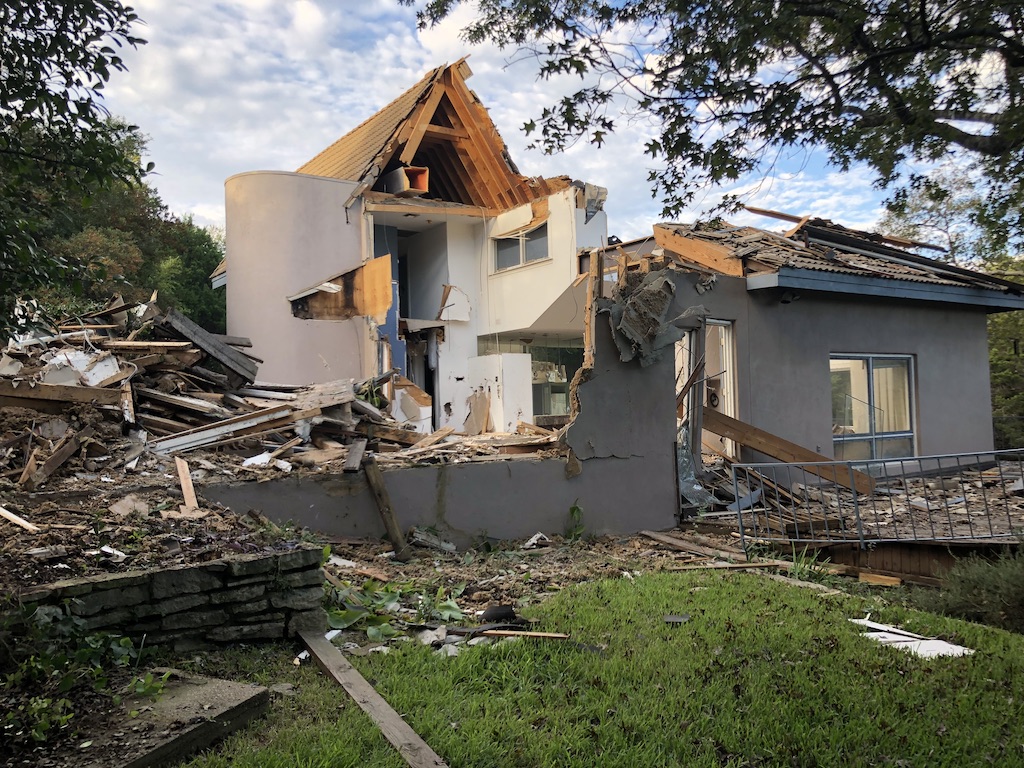 The lot was completely overgrown and hiding behind the mess we found some beautiful oak trees (not pictured here). The land just opened up and was so beautiful!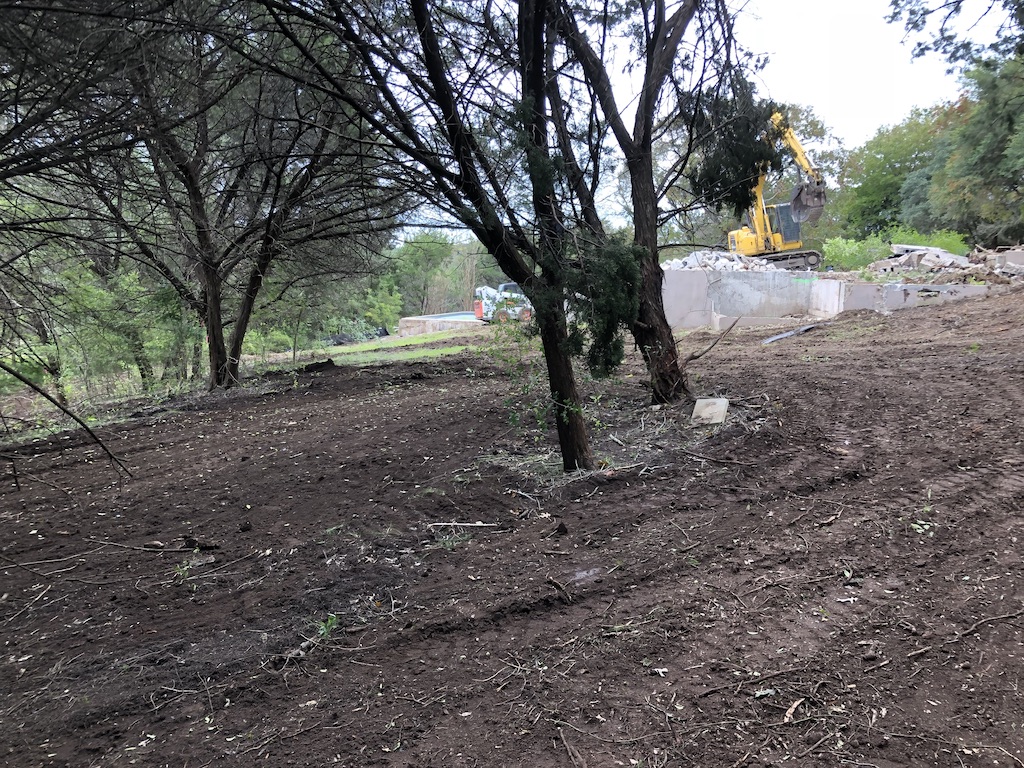 It was funny on the day we poured the foundation....I drove up and the security guard was there. I am thinking, "oh my, what am I in trouble for now?" I had built in Rollingwood and I had a real nosy neighbor that called the police on me 7 times!! Never was I doing anything wrong but it was just a pain. I thought I was headed for a repeat situation in the new neighborhood. But no! They were so nice and came up to me and asked that when I have 10 concrete trucks coming, can I please not have them all come at once? Ha! My concrete guy had set it up but I was sure tell security that I would not let it happen again.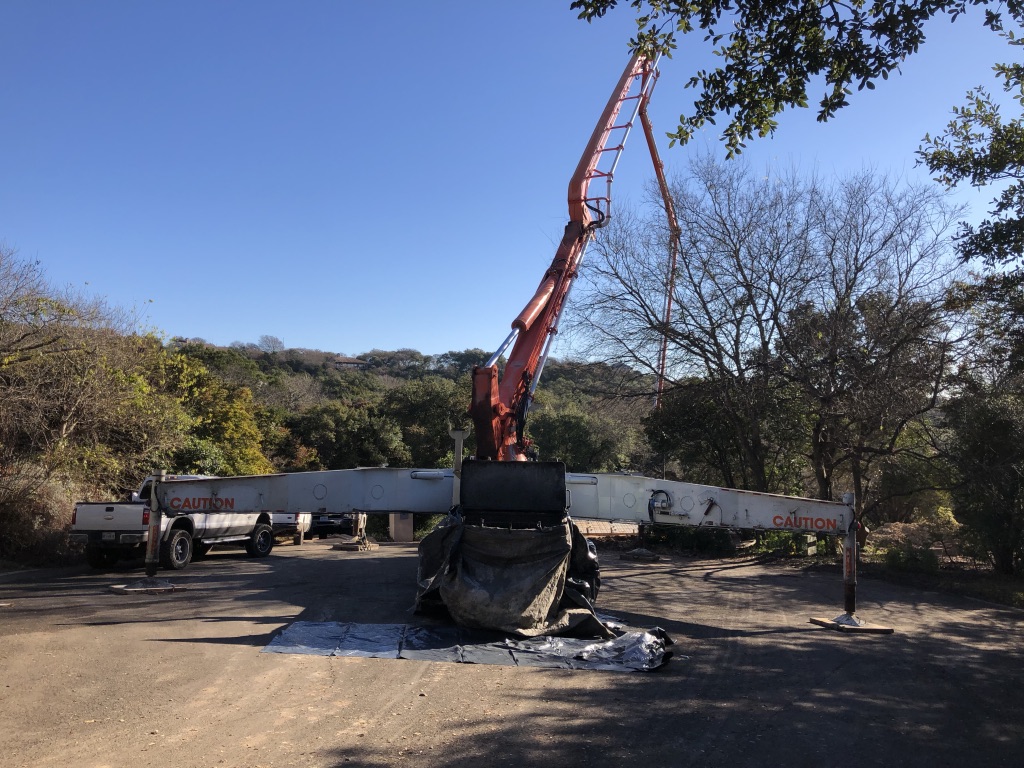 We were framed up, windows installed and a lot of the rough was done. Pictured here is the living room. I did a lot of glass in this house. I did floor and roof trusses. The ceilings were 12 ft in this room. I love high ceilings. We used heavy duty triple LVL's above the slider and a steel column in the corner, all spec'd out by the structural engineer. There was so much natural light in this house with all of the huge windows!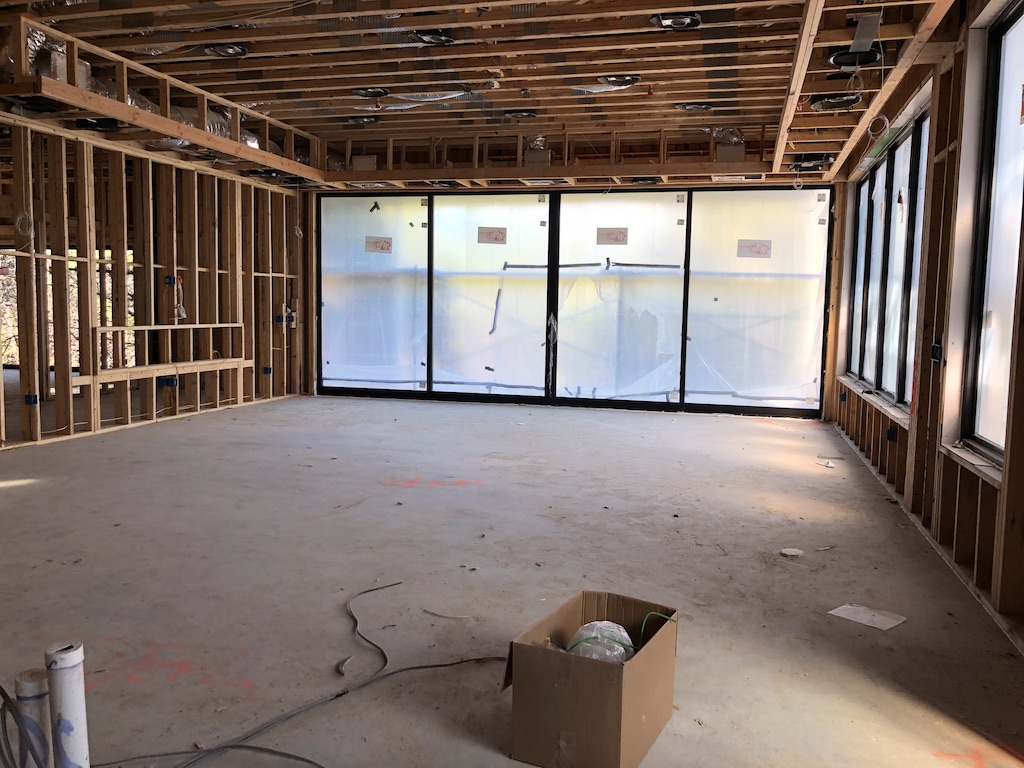 I like to use Zip sheathing. It was funny because the guys started stapling it onto the framing. I told them I wanted a certain type of nail used. They rolled their eyes saying staples are what they use on every house. I say, "I don't care, this is how I want it." They, of course, listened but those guys sure do like to do some eye rolls towards me. We are all buds now. They did a great tape job and I had them seal any overshot nails.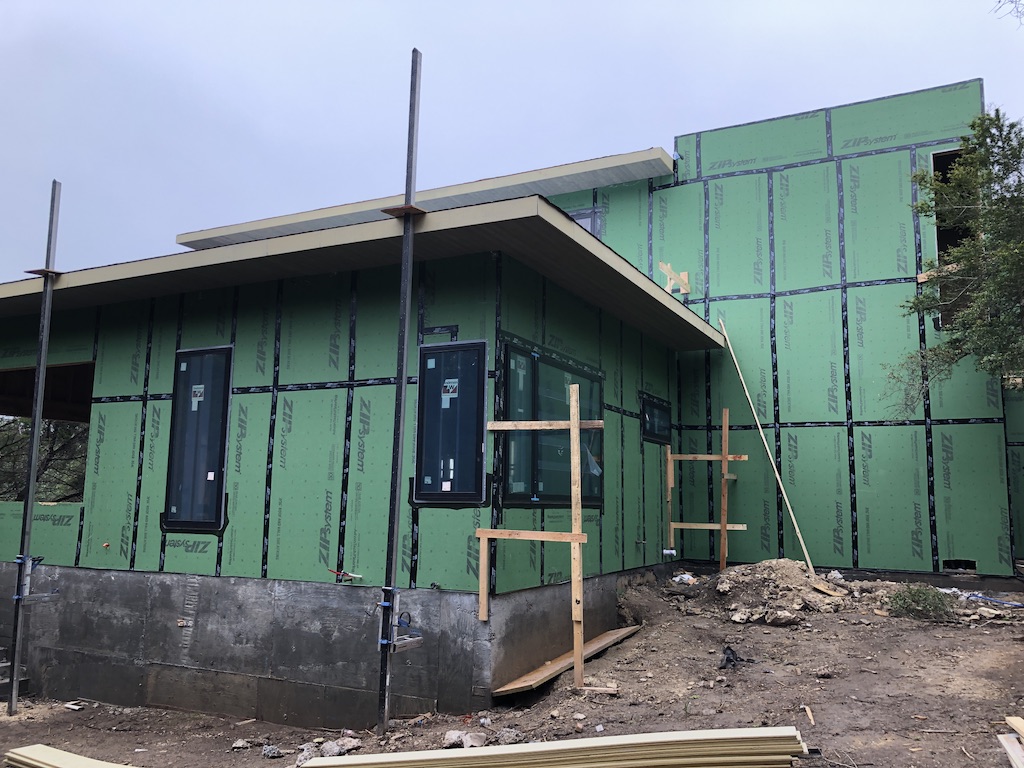 I did a lower-pitched roof on this house so we did a water and ice barrier before the metal roof. I don't like striated roofs so the roofer did a backing under the metal so it won't bend or "oil can". It rained a lot before drywall which I am always so appreciative of. It helps me really make sure the home is dried in and ready for drywall!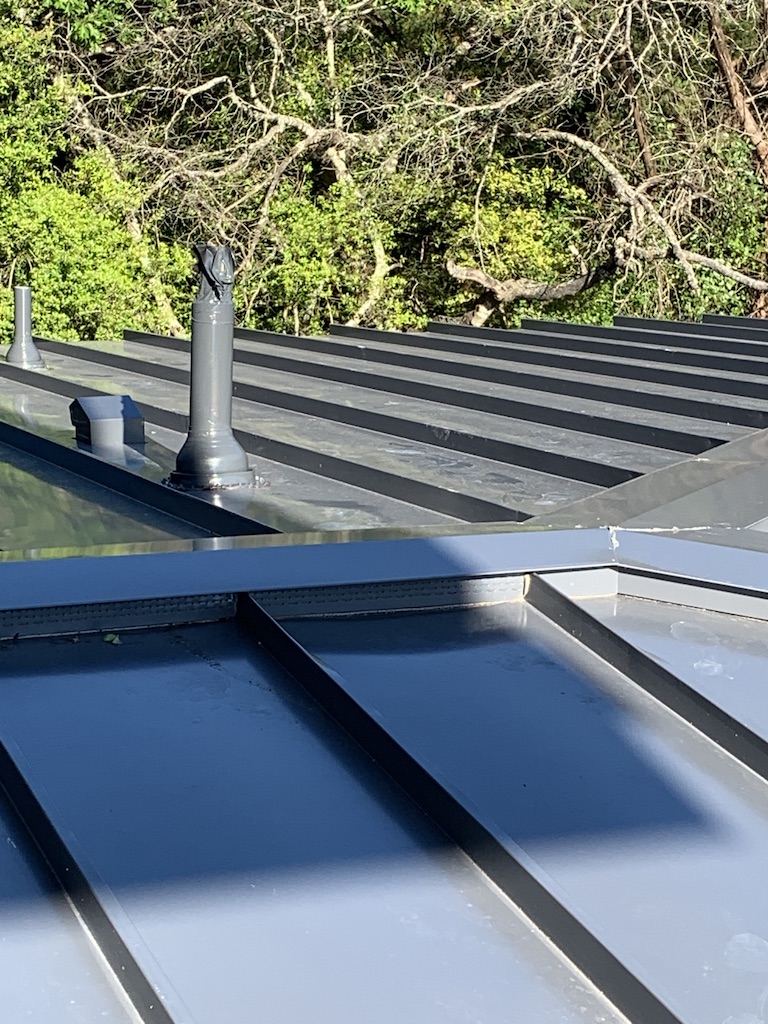 I love my stucco crew and have worked with them for years. They take a lot of pride in what they do. This house needed a ton of scaffolding, it looked huge from this angle!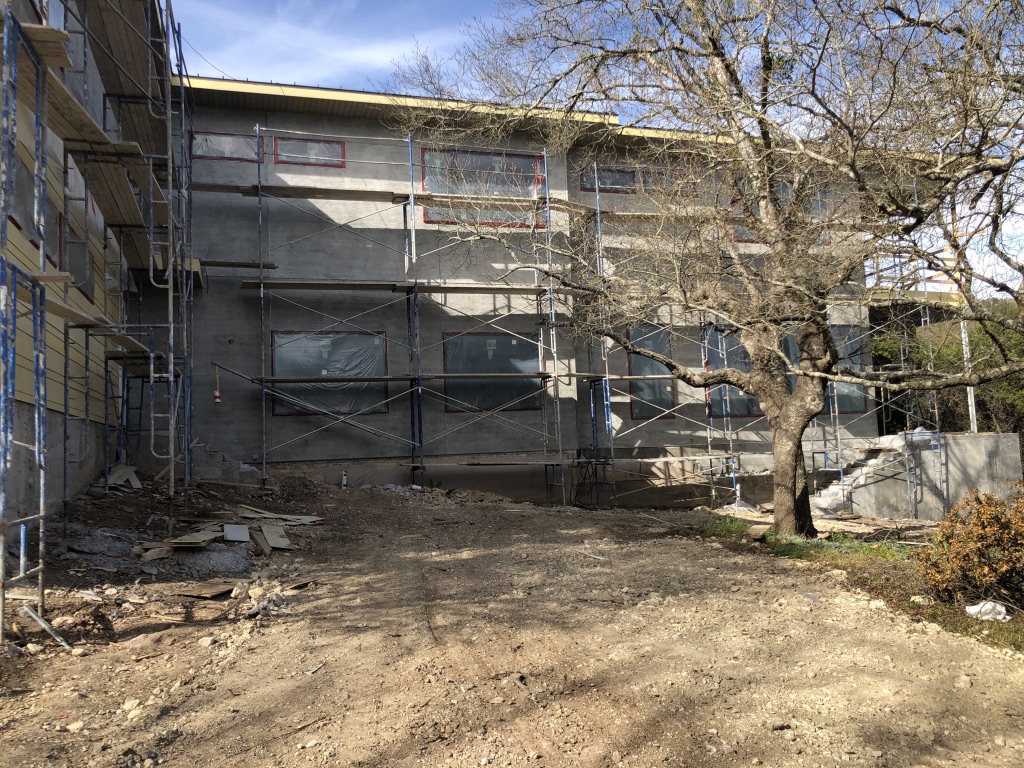 I was very particular on how I wanted this stonework to turn out. They hand cut each stone on-site to be square and it was laid in a pattern that I chose. It was also laid in a dry stack application. The stonework was one of my favorite parts of the house. It was beautiful! I searched everywhere for the right stone. I think this one was called Ocean Blue. The name of it was the icing on the cake!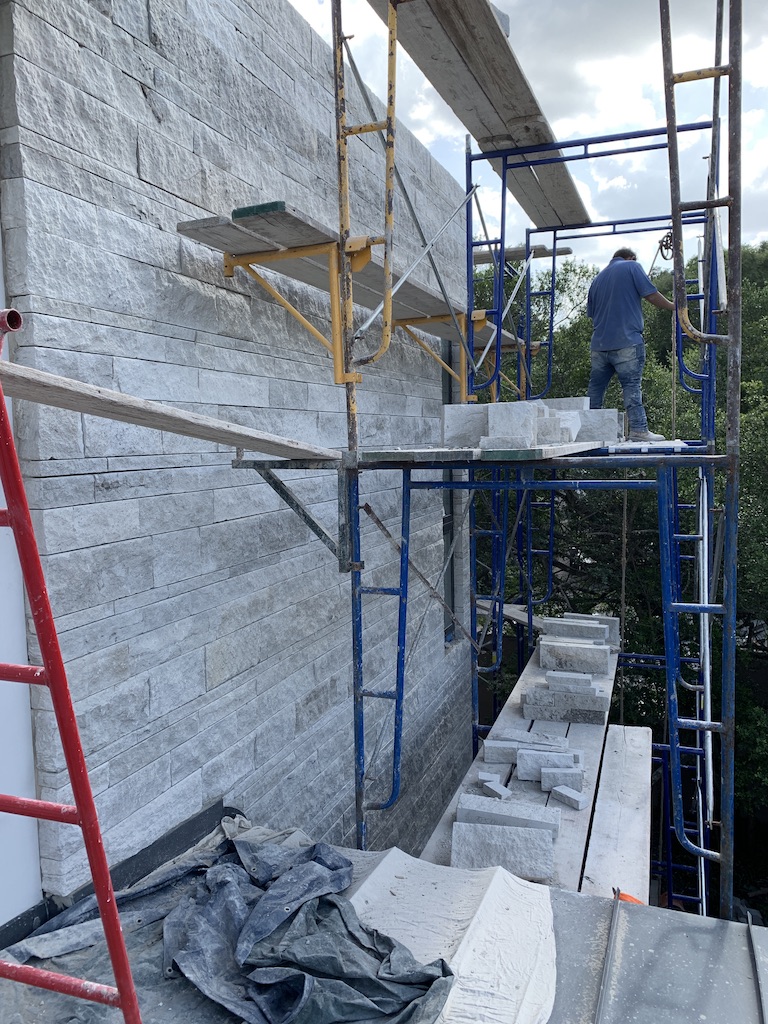 After we roughed in Electrical, Plumbing and HVAC I had foam insulation applied. This is installed with a hose in a liquid form and dries within a day or so. This is the garage pictured here. The bills last summer while I was building the home were quite low, even with the A/C on.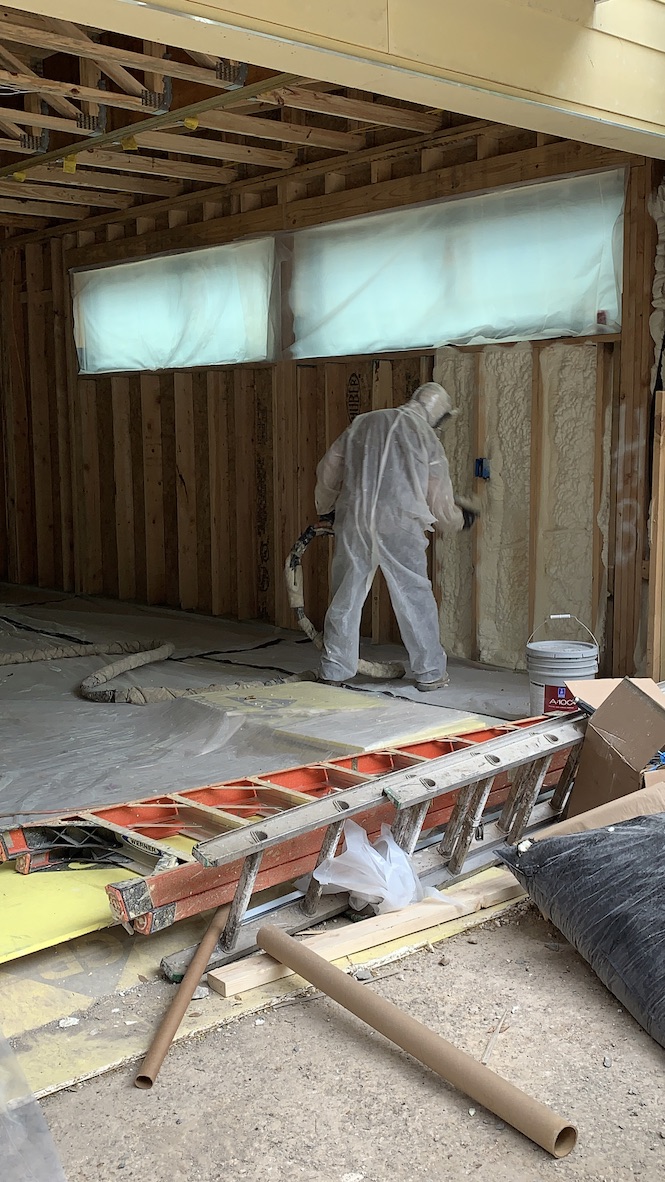 Drywall is my second favorite time right after framing! It is so exciting to walk through the house once drywall is in. You can really get a feel for the plan.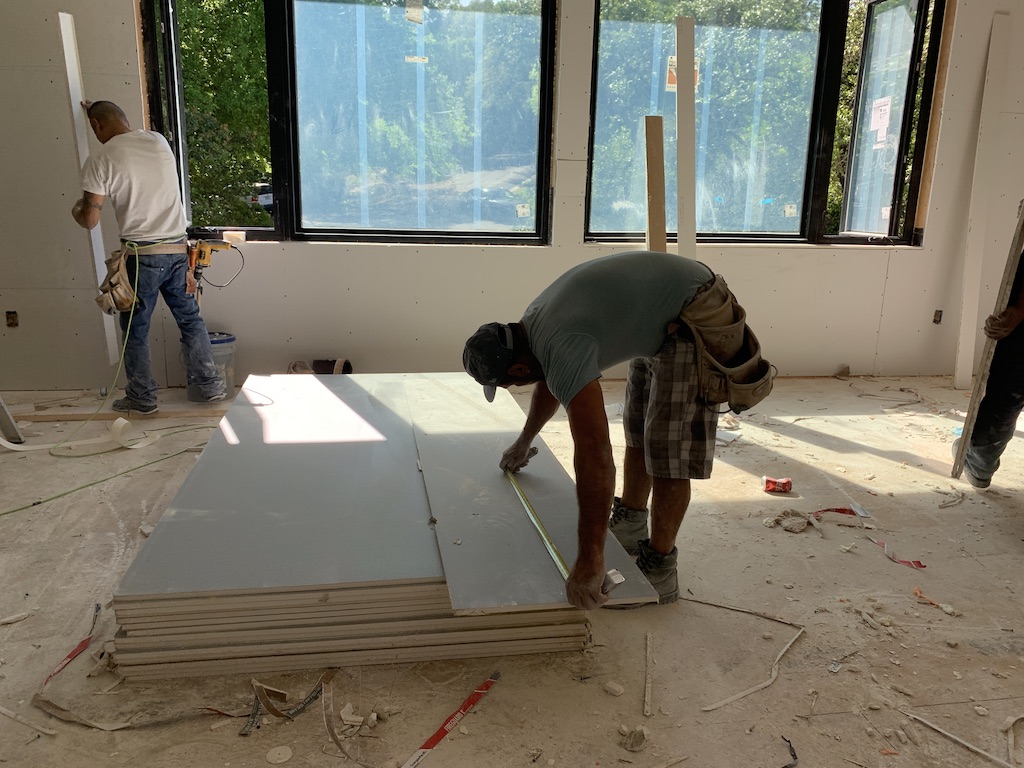 I have the best cabinet guy and painter. They both know exactly what I want. I have worked with my cabinet person for 15 years!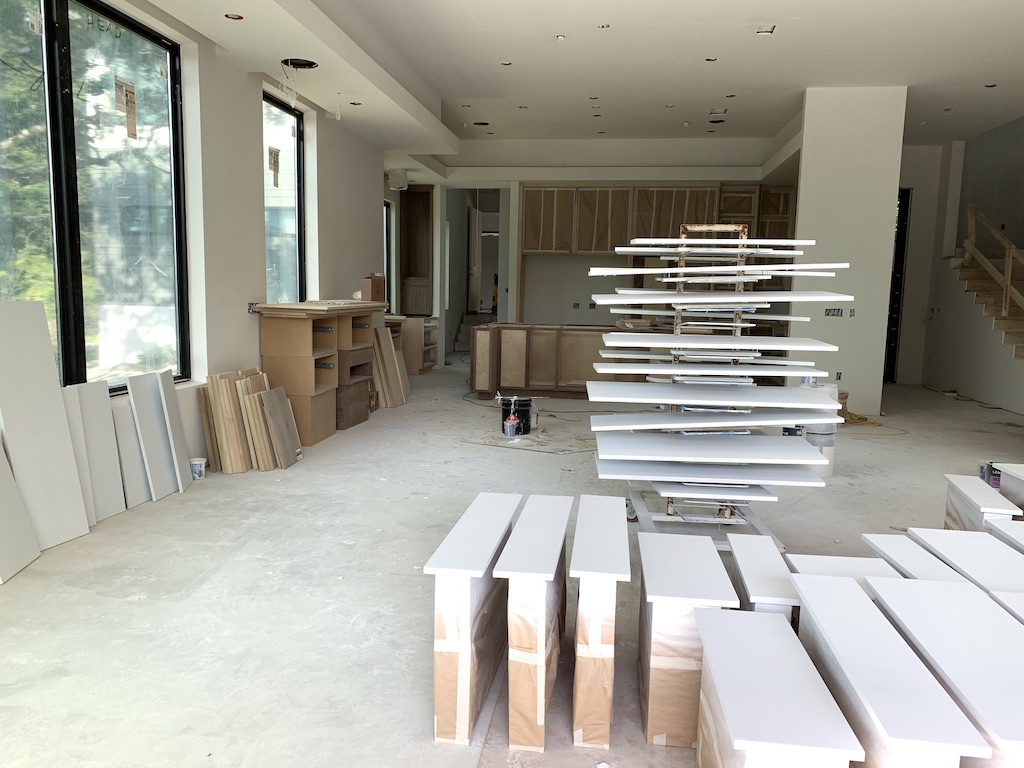 I used a new tile guy on this job. He did a great job. The ceilings were high in this house so they had to bring in scaffolding for the bathrooms. I found this super cool modern textured tile. I laid in on a straight lay. It came out awesome!!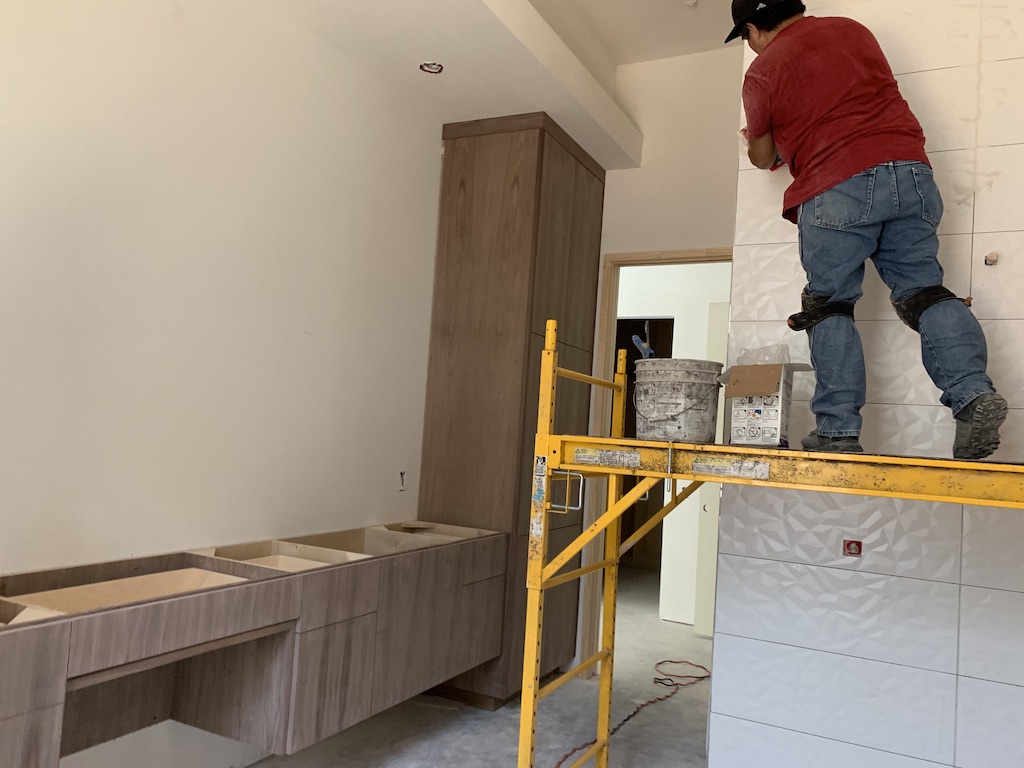 This island was huge so, of course, the countertop was super heavy! It took a bobcat to get it to the front door and a lot of guys to carry it in!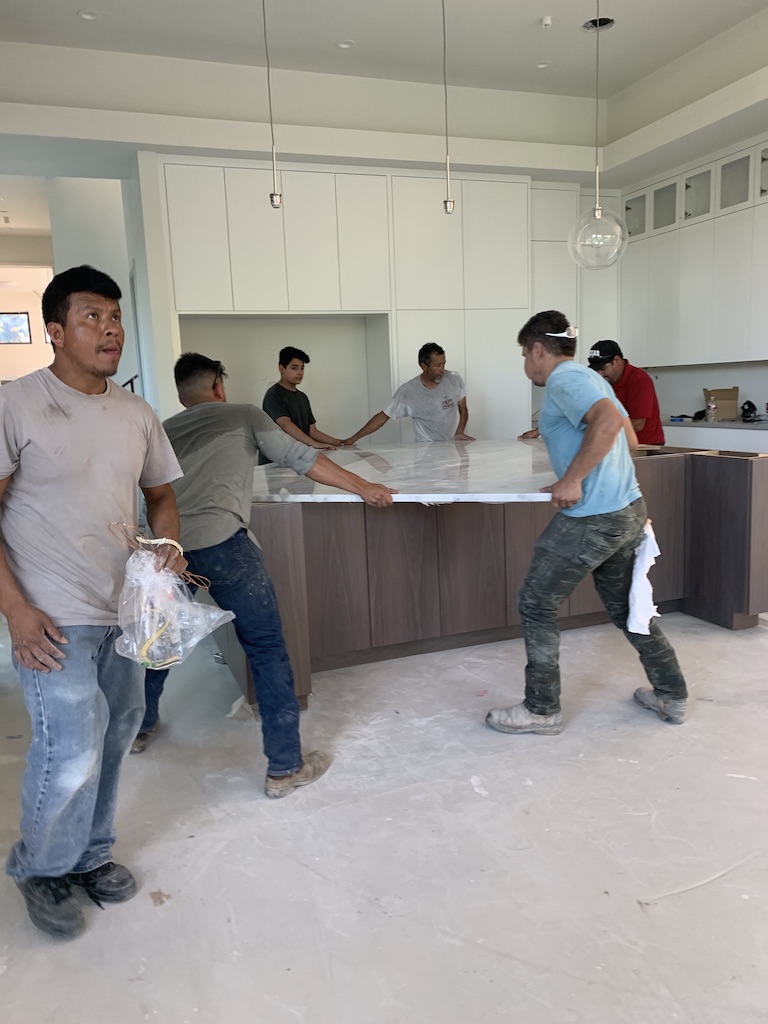 Here is a great shot of when I was nearing the end! I was there from sun up to sun down for many months trying to get it finished. My daughter missed me so she would come and hang out at the house with me. Ok, let's be real, she would sit there and watch me RUN trying to get it all done:)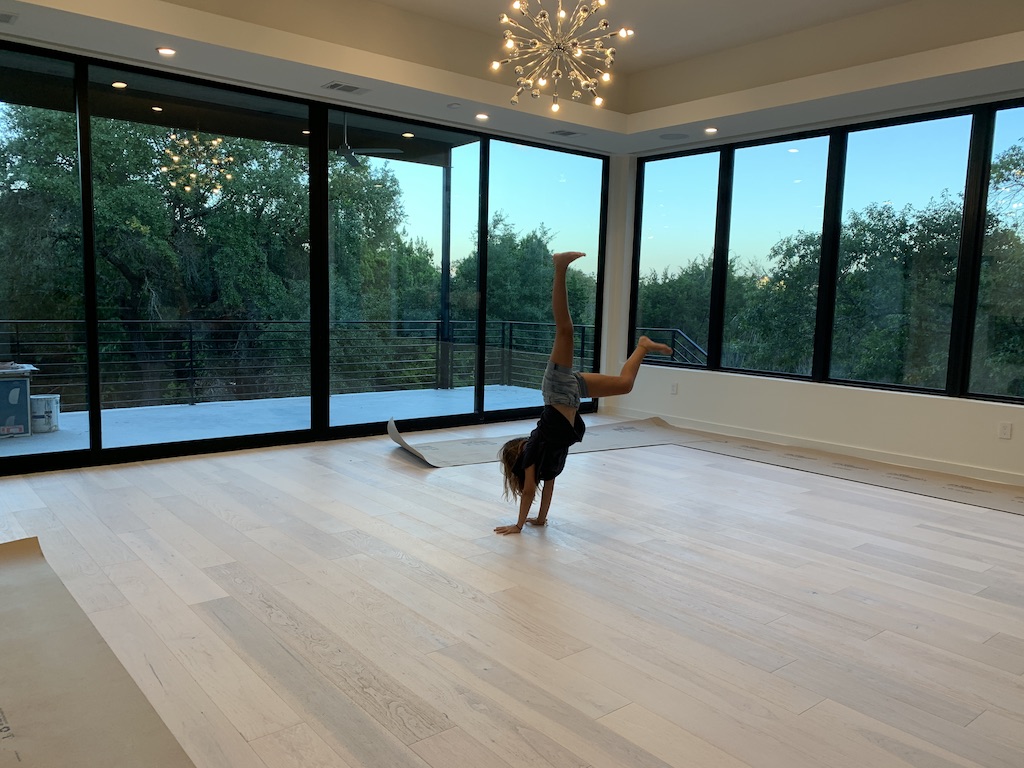 Here is one of my favorite pictures of the kitchen. I put my heart and soul into this house and I was so pleased with how it came out.