Fall Design Trends 2022
Posted by Alisa Wells on Wednesday, November 16, 2022 at 7:00 AM
By Alisa Wells / November 16, 2022
Comment
Fall 2022 Design Trends
If you would prefer to listen to this post in more detail, it is also available in podcast form! You can find it by searching Greetings From Austin wherever you listen to podcasts. Or, visit the link below to listen on Spotify.
As the seasons change, we love to watch the design trends change too. If you've spent any time on social media lately, you are probably aware of some of these trends and have maybe even heard about some things that are going out of style too.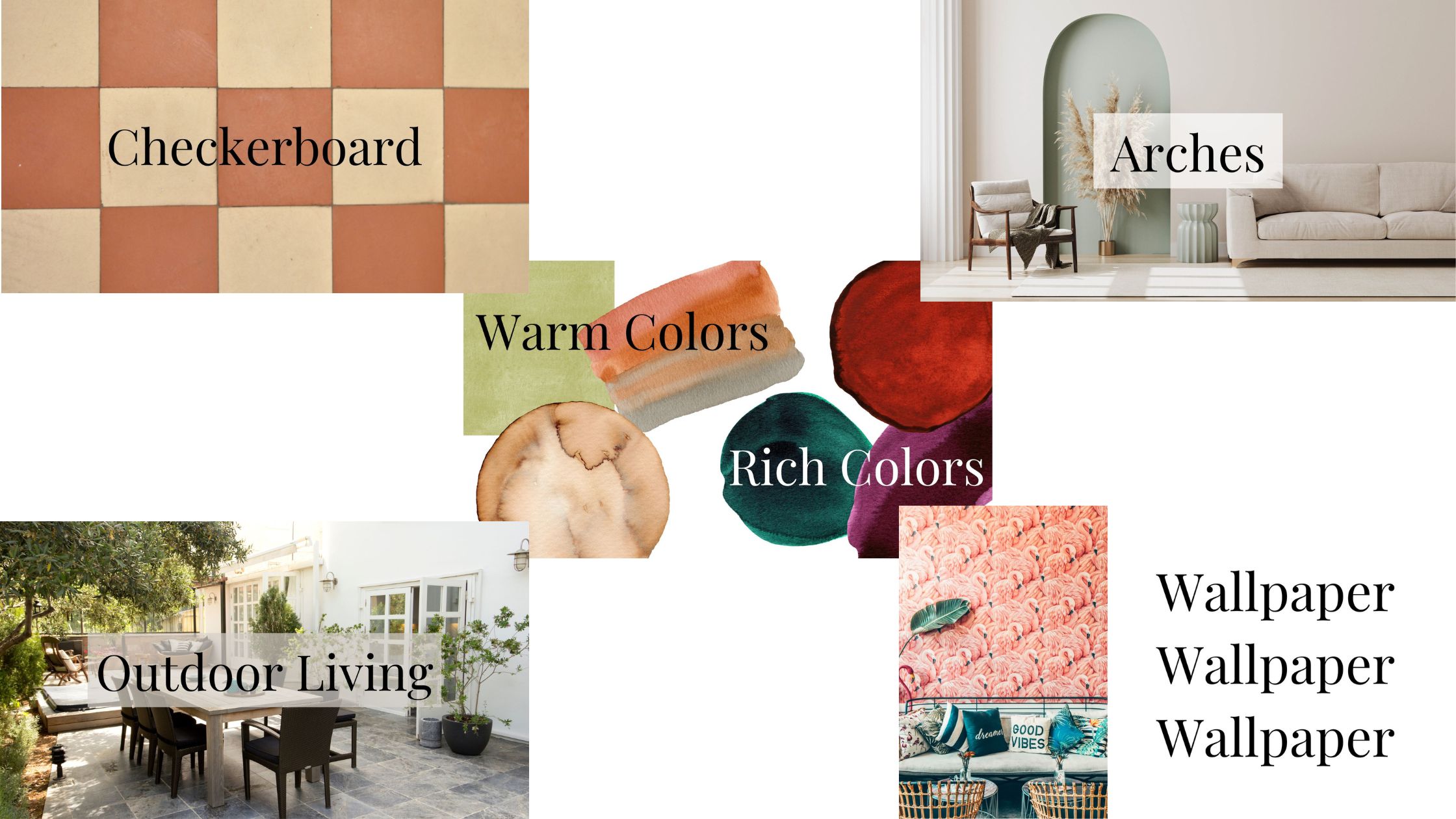 Checkerboard -It's everywhere! Home design, fashion, and checkered vans are back in style. Think old-school Van's style.
Outdoor living - Outdoor living spaces had become a bigger deal over the last few years. More people are working from home so having an extension of living space is huge.
Warm, earthy colors - Think olive green, tans, and browns. Also, deep, rich colors and jewel tones.
Curves and arches are so popular right now. Full disclosure, we aren't sure how we feel about this one!
Fun Wallpaper - Happy to see this come back! Gaining popularity for a while now but it's here to stay. You can really dress up a room with wallpaper, you can make it more formal, more fun, really anything you want. Flavor Paper and Spoonflower have some fun wallpapers. It's so funny, for so long we would help people get rid of wallpaper before listing their homes. That 90's floral or coffee cup wallpaper is "still" not in, haha!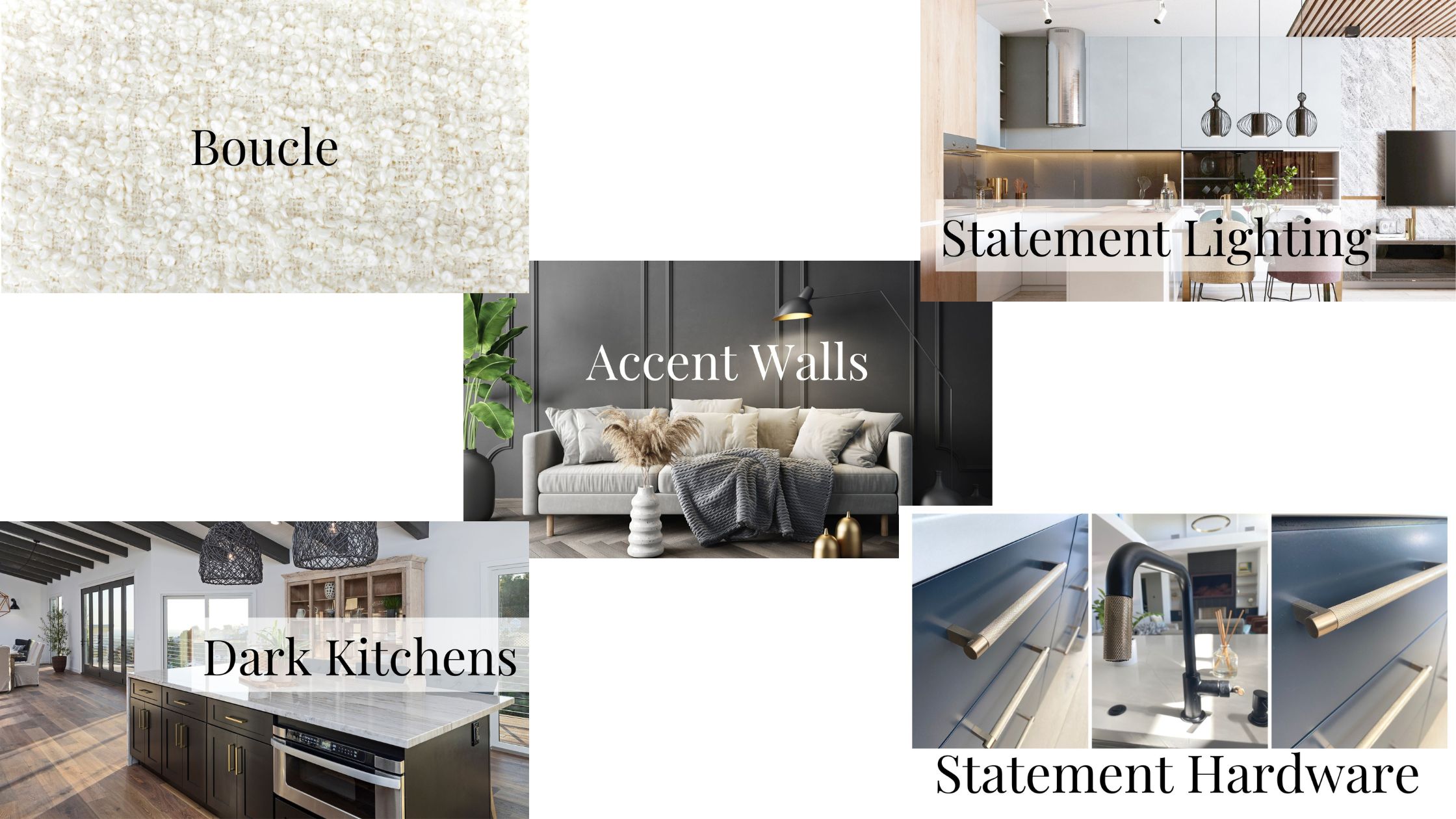 Textured fabrics really add dimension and style to a room or a piece of furniture. We are seeing this, especially in upholstery. For example, boucle is everywhere!
Dark, moody kitchens- Black and dark paint on kitchen cabinets is in! They say white is out but we aren't so sure about that one! Here is a picture of the house Jenny just built with a black kitchen.
Either stain grade or painted wood designs on the wall. You can modernize the house with fluted wood or get the room more dimension with a design with trim boards.
Statement lighting - Light fixtures are like the jewelry of the home and can really add a whole different level with the design element.
Statement hardware - We keep seeing the restoration hardware with the texture. Think bigger. We are loving the knurled hardware right now. Emtek has a great line and can be bought on build.com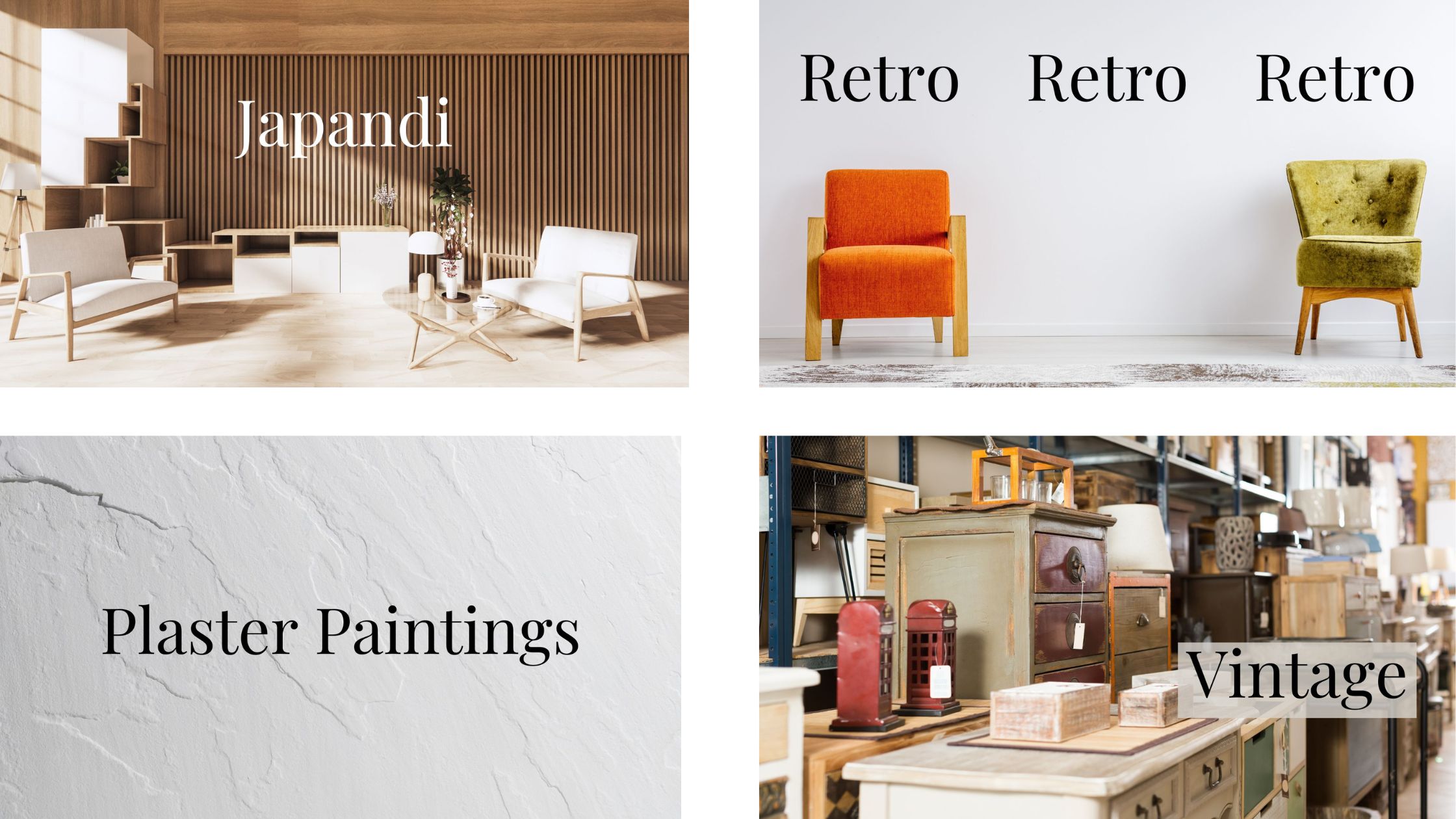 Warm Minimalism - Japandi style is a mixture of Japanese and Scandinavian style. It really mixes the modern with the popular warm colors and textures.
Retro is very popular now too.
Plaster Paintings are in. Who knew this would become a thing?
Vintage is having a moment. This is probably stemming from supply chain issues but we hope this one stays. "Mixing vintage pieces into any space is a great way to make a home feel curated and collected over many years, even if you just moved in." See this link for more : Lulu and Georgia Trend Report 2022
Please see our Pinterest page to see more of these styles: https://www.pinterest.com/AWellsrealtor/fall-2022-design-trends/