Shifting Market in Austin and a look back at 2022
Posted by Jenny Walker on Wednesday, January 11, 2023 at 1:55:24 PM
By Jenny Walker / January 11, 2023
Comment
This week we're talking about our current market and the end of 2022. I'm sure you've heard people say that the market is shifting. But what does that really mean and how does it change things for you as a buyer, seller or investor?
We want to start off by saying that any numbers shared here could be dated by the time you're listening to this. So while we will touch on some of the numbers, our focus is on what a shifting market looks like and how you can stay educated about the changes. Be sure to check the current stats in your market or better yet, speak with a real estate professional.
What does it mean to be in a shifting market? The market is changing whether it be from a seller's market to a buyer's market or a pretty even market. (For Austin currently, the market is moving from a sellers market into a buyers market.)
Should you still buy or sell in a shifting market? The answer is "yes" . If the market is heading up then houses will only get more expensive. If the market is headed down, it is really hard to know what the bottom is. Currently it is January 2023 and rates have dipped down a bit to the upper 5% and low 6% range. In our opinion it is a great time to go ahead and list that house so buyers can take advantage of these lower rates.

Some things to remember if you're a seller:
Pricing right is really important right now
On a similar note, staying on top of how prices are changing is just as important. (listings are sitting on the market longer and it's more common for sellers to reduce their list price. Review numbers weekly!)
How your home shows makes a difference in a buyers market. You want it to show the best compared to competition. That may mean that it would help if you did some updating. Staging is more important than ever before!
Most importantly, keep an open mind, set realistic expectations with yourself and your agent, and be patient and flexible.
Some things to remember if you're a buyer:
If you spoke with a lender months ago and now you're ready to revisit your search, reach out to them again for updated numbers.
Rates are fluctuating, if rates are down you might want to consider locking your rate. This typically lasts for 30-60 days but there are also longer locks available. Jenny was recently able to lock a rate for 6 months on a house she was building. It did cost 1% upfront but it ended up being worth it.
There are other ways to get a lower rate, you can buy it down for the life of the loan but this can get expensive. Another option is a 2-1 buy down where you get a much lower rate for the first year, it goes up a bit the second year, then the full rate for the third year and through the life of the loan.
This applies all the time but I don't think you can say it too much…Buy within your means. Stay comfortable!
If you bought over the last 3 or so years or know people who have, there is a good chance you've heard some stories about the rapid equity growth. It was almost like winning the lottery for a while there. As a buyer NOW it's important to remember that we won't see appreciation happen that quickly. It could be a good time to hold onto that investment a little longer.
For investors:
Rents in this area are having to catch up. Between, higher interest rates, higher taxes, and high prices, you might end up in the red. Specifically, if you need a loan.
No one knows where the bottom of the market is. If you have the ability to pay cash for your investment you are in a great position in this market.
The following are some graphs showing what the market did in 2022 in all of Austin, Texas.
This graph is showing how Active listings are on the rise and how they were the highest at the end of the year.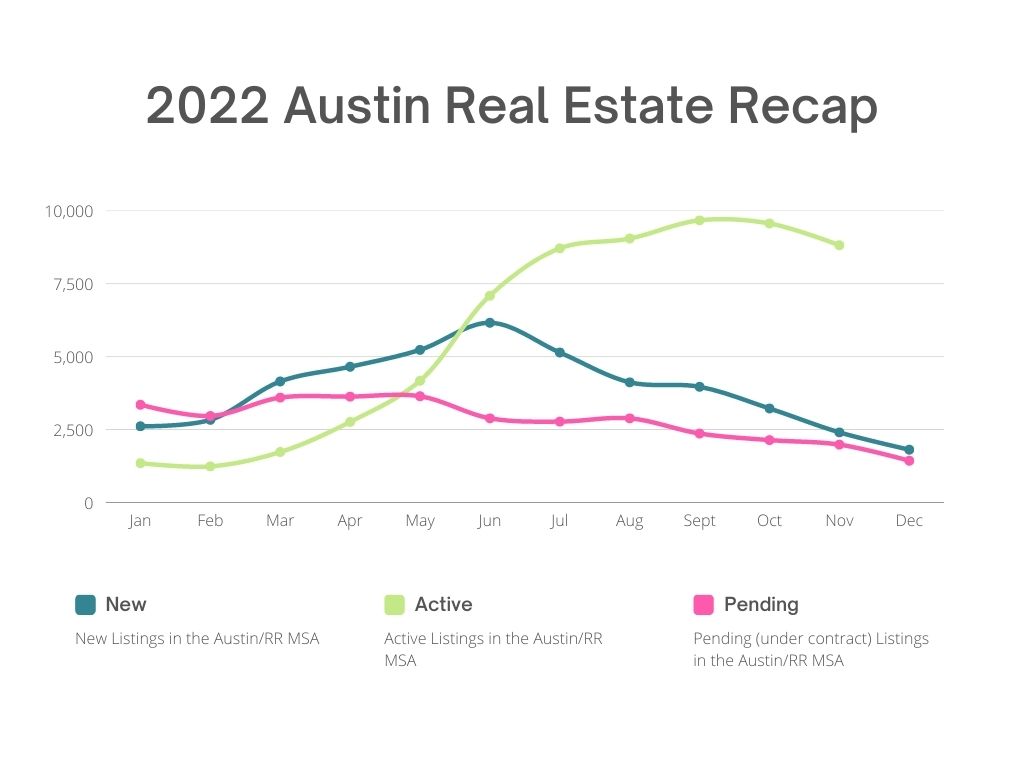 This graph shows how average days on market really rose by the end of the year to 60 days. In the first part of 2022, most houses did not last on the market more than a few days because there was such a shortage of homes and a huge demand of buyers.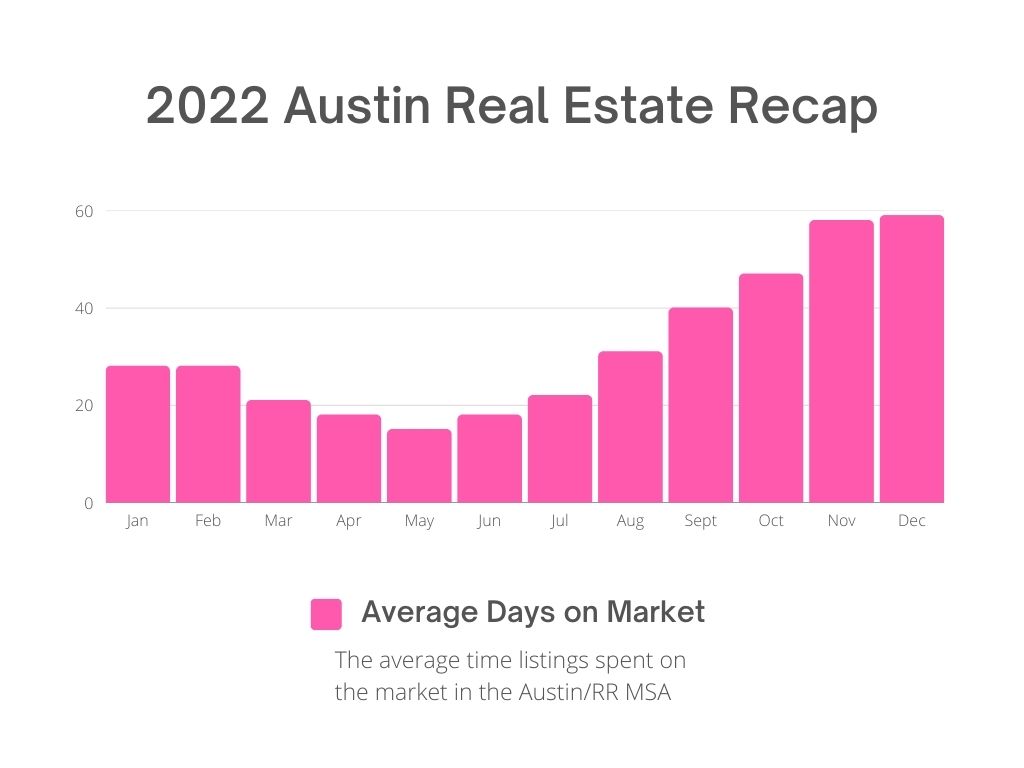 This graph shows the average months of inventory for 2022. The months of inventory increased from 2 weeks in the beginning of the year to just under 4 months by the end of the year.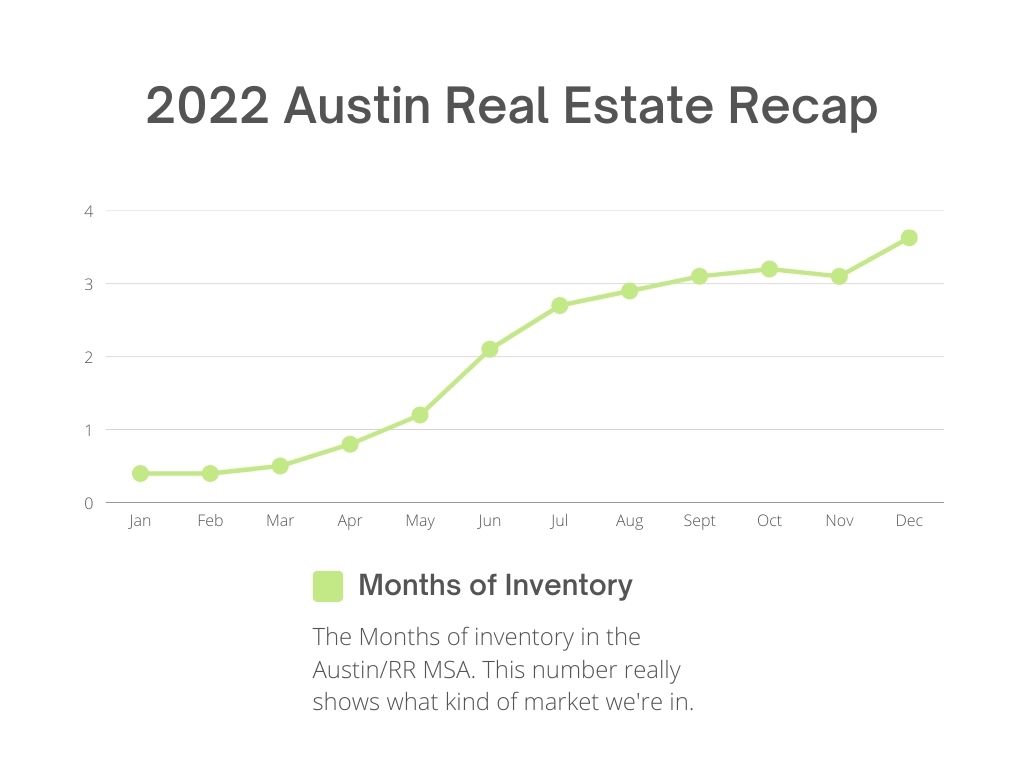 This graph shows the average sold price in 2022. Remember this is for all of Austin. Not much in the city is in the $500k range but the outlying areas can. This is an average of them all. The average sales price rised over $100k from January to May and then it dropped the rest of the year and ended up dropping over $100k.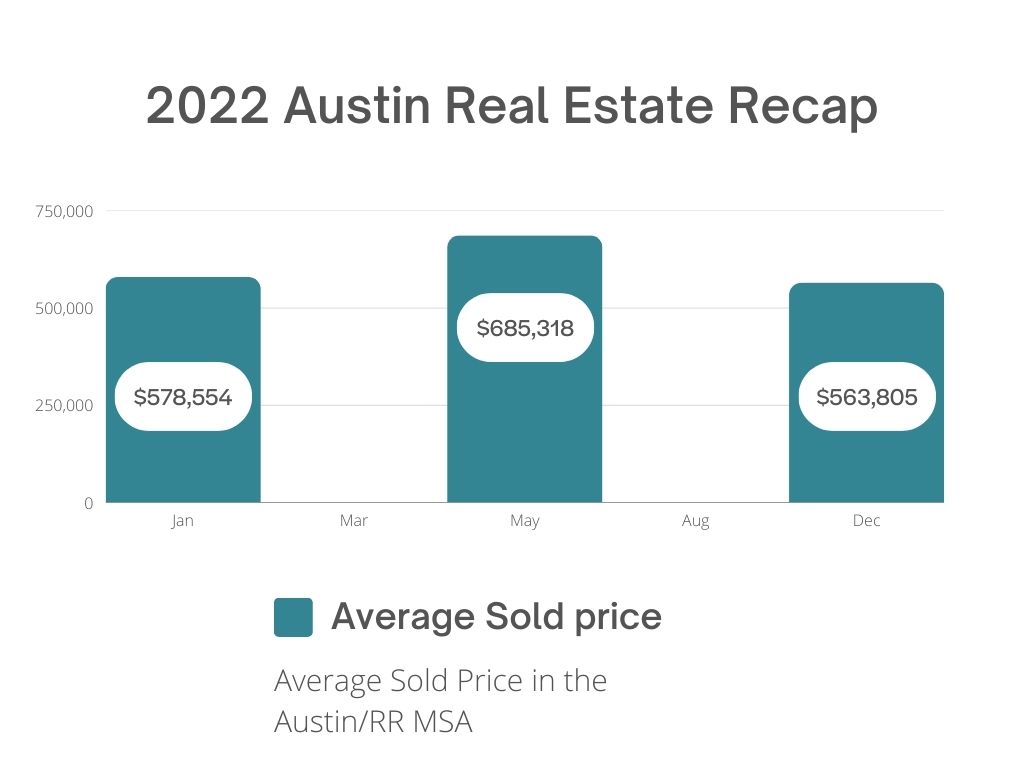 Please reach out if you have any questions or want to know more about the market in Austin, Texas. We look forward to hearing from you!
-Jenny and Alisa from Realty Austin